The rest is interior. Nice CD player, two 10 inch subs powered by a 700 watt amp in a ported box (built by me).
The interior is black with arm rest delete.

Here is a picture of my new Trick Flow Track intake. I swear to God, I'm going to DDT (wrestling move) the next person that tells me that I should leave the ports "With rough edges, because it promotes atomization..." These people are the one's I can't stand. Yes, What your seeing is factory casting. The "flakes" that are standing up in the port are aluminum. That's the way they come new. It's my job to take 'em out!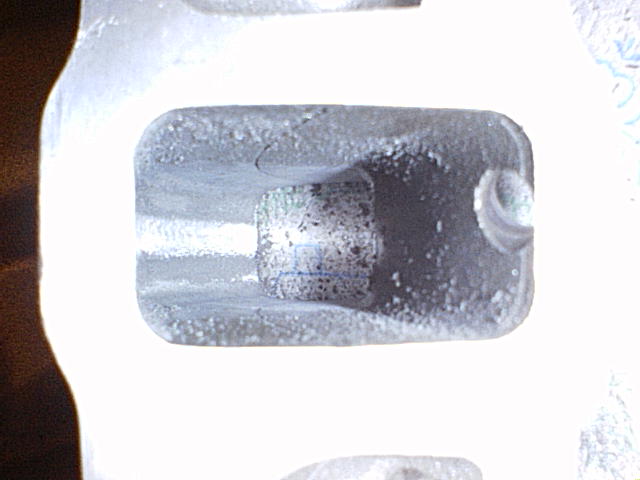 Here is a pic of the finished product. You can't tell me that the first pic will make more power than this. hehe.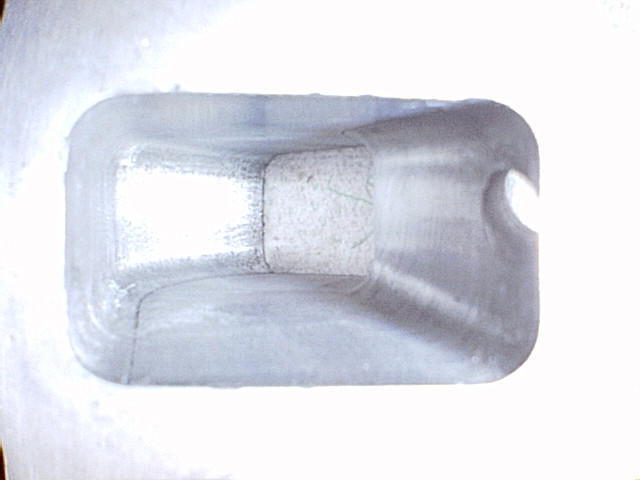 The next pics are of my new Vortech Super Quiet S Trim supercharger. I used to have an A trim. I sent it back to Vortech to have it upgraded to an S trim but the Retard at Vortech told me that the "dowel pegs don't line up anymore" and "you'll have to get a new one". I know damn well that the A trim was in good condition! I took it apart. The only thing wrong with it was it needed a front oil seal and an upgrade to an S trim. So, needless to say, I ended up turning in my old one for a 500 dollar credit toward a new one.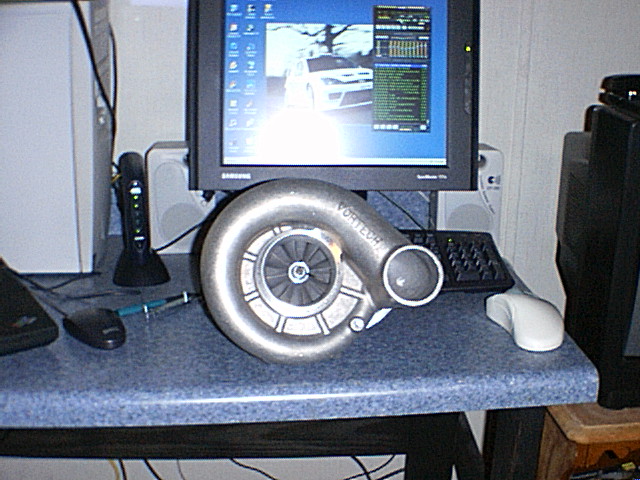 Next is my cylinder head.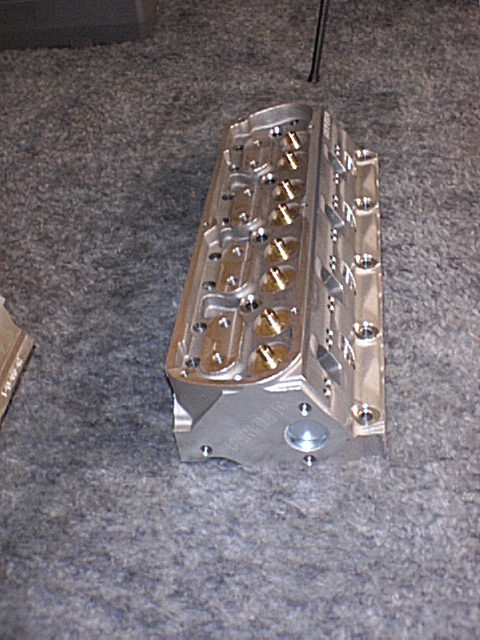 In this pic, I've completed the de-burring and have POLISHED the intake runners, exhaust runners, and combustion chamber! My best work yet! I used multiple sandpaper rolls on them. I started out with a De-burring kit from Goodson. I used 120 grit to start, then went to a 320 grit roll, then went to a red scotch brite pad slathered in Mothers Chrome and Aluminum polish, and finished with Mothers and a buffing wheel on my tiny dremel. I used this method on both the runners and the combustion chambers. Everything is like a mirror. There are no lips on the runners where the runner meets the valve seat. It's perfectly smooth. The tiny spots you see on the top of the head was a little left over mothers polish.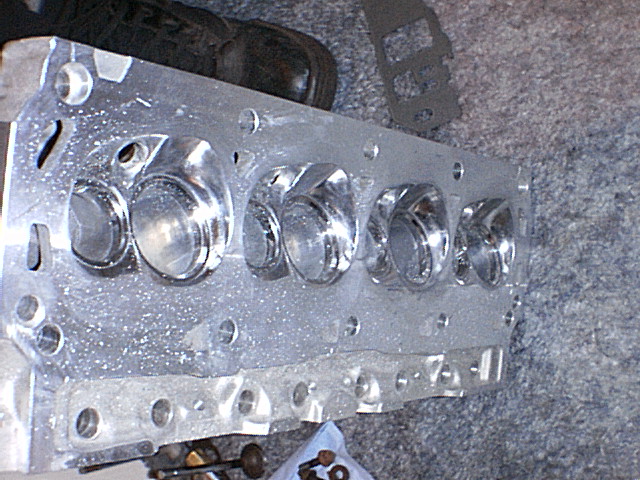 I used Ferrera race valves with the "necked down" section on the stem.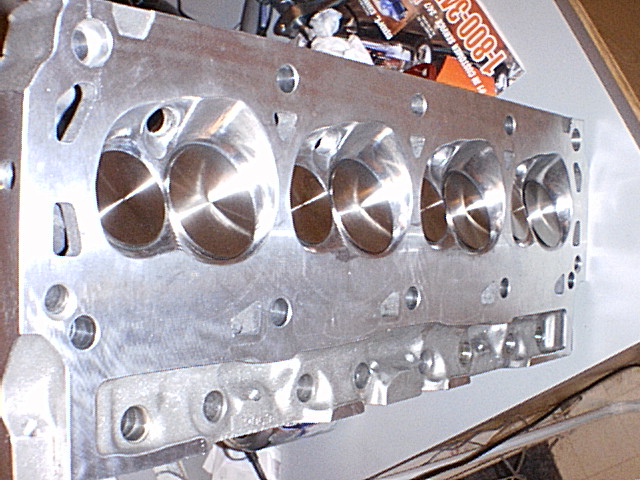 Here's a test fit of the new heads and intake manifold. My headers weren't wrapped yet when this pic was taken. I just wanted to get some inspiration to keep working on my car. This sight was enough to get some blood pumping!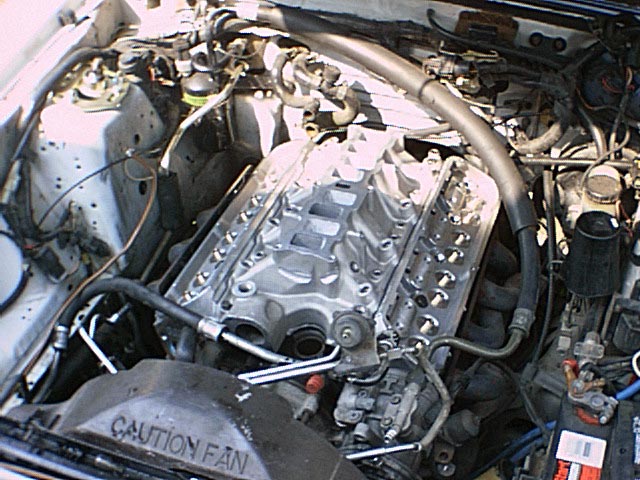 7/6/03
I guess I'll just keep adding on to this page till it gets too long. hehe.
Here's the latest work on my 5.0 project! I put the heads on with a Felpro 1011-1 Steel wire gasket. (non-lock ring type). I used a heavy coat of Permatex Copper head gasket spray on both sides of the gasket. ARP head bolts are torqued to 75 lbs. I thought that was low, but the instructions on the bolts said 70 lbs for aluminum heads. In the picture, you can see my Harland Sharp roller rockers mounted on 5/16 studs, custom 6.075 length pushrods to get the roller tips right where they should be on the valve stem, tripple valve springs, Thermo Tech header wrap, and ATI Super Dampener.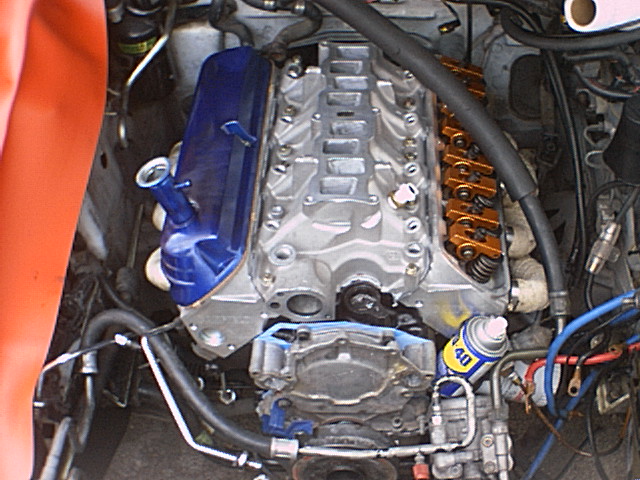 Not too much longer and I'll be back on the road! Can't wait to drive her again.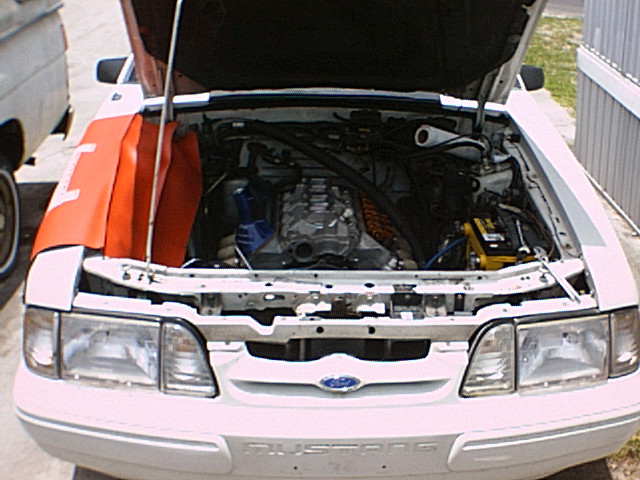 Kirban billet fuel pressure regulator on the rail. Ford Motorsport 36 lb injectors.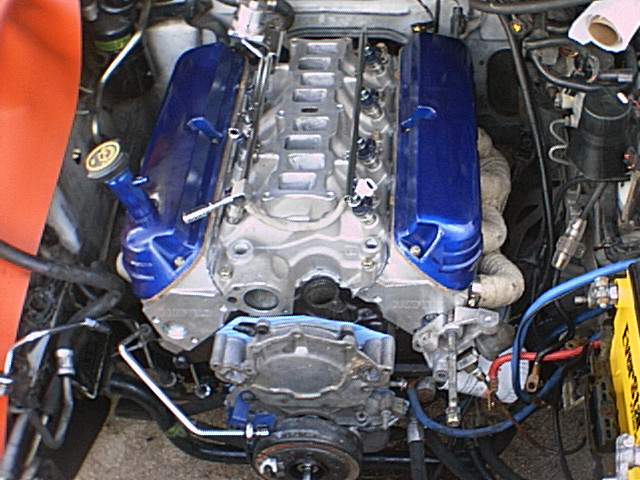 Here is the last pic I took of my engine. For some reason, I forgot about documenting the progress and focused my attention to getting it to run right.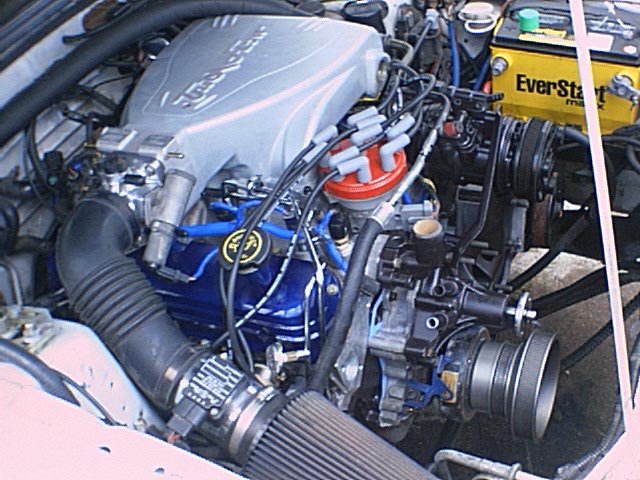 After getting the supercharger all lined up it worked perfectly and put out 6 to 9 psi. I took her to the track and ran 12.24 @ 113. I could've broke into the 11's, but didn't have a 2 step to hold a good launch rpm. I seemed to come out of the hole way too low dumping the clutch at 3500 rpm. But here's a few videos of the runs.
First run:
First run down the track
Second run:
Second run down the track
I have since blew a head gasket when doing a 13 psi run (non intercooled). I am totally fed up with this block. I will never own another 302 in my life. I have bought a new 351 block and put good internals in it. The new engine consists of the following:
357 ci Stock non-roller block
Eagle Forged Steel Crank Internally Balanced (stock stroke)
Probe 8.25:1 pistons
H beam rods
Aluminum Flywheel
King Cobra Clutch
Romac Balancer
Anderson B-31 cam
Canton oil pan
Super Victor carb style intake converted to EFI
Hybrid Inc. Intercooler 12 x 3 x 24
Canfield heads
Hydrolic race roller lifters
Harland Sharp roller rockers
I will be making a custom 3" X pipe that goes into a MAC 3" exhaust. It should be a SICK ride! I'll document this one a little better.
Stay Tuned, I just ordered all my parts and will be assembling it shortly!